Posted on
By This recipe is courtesy of le Dindon du Québec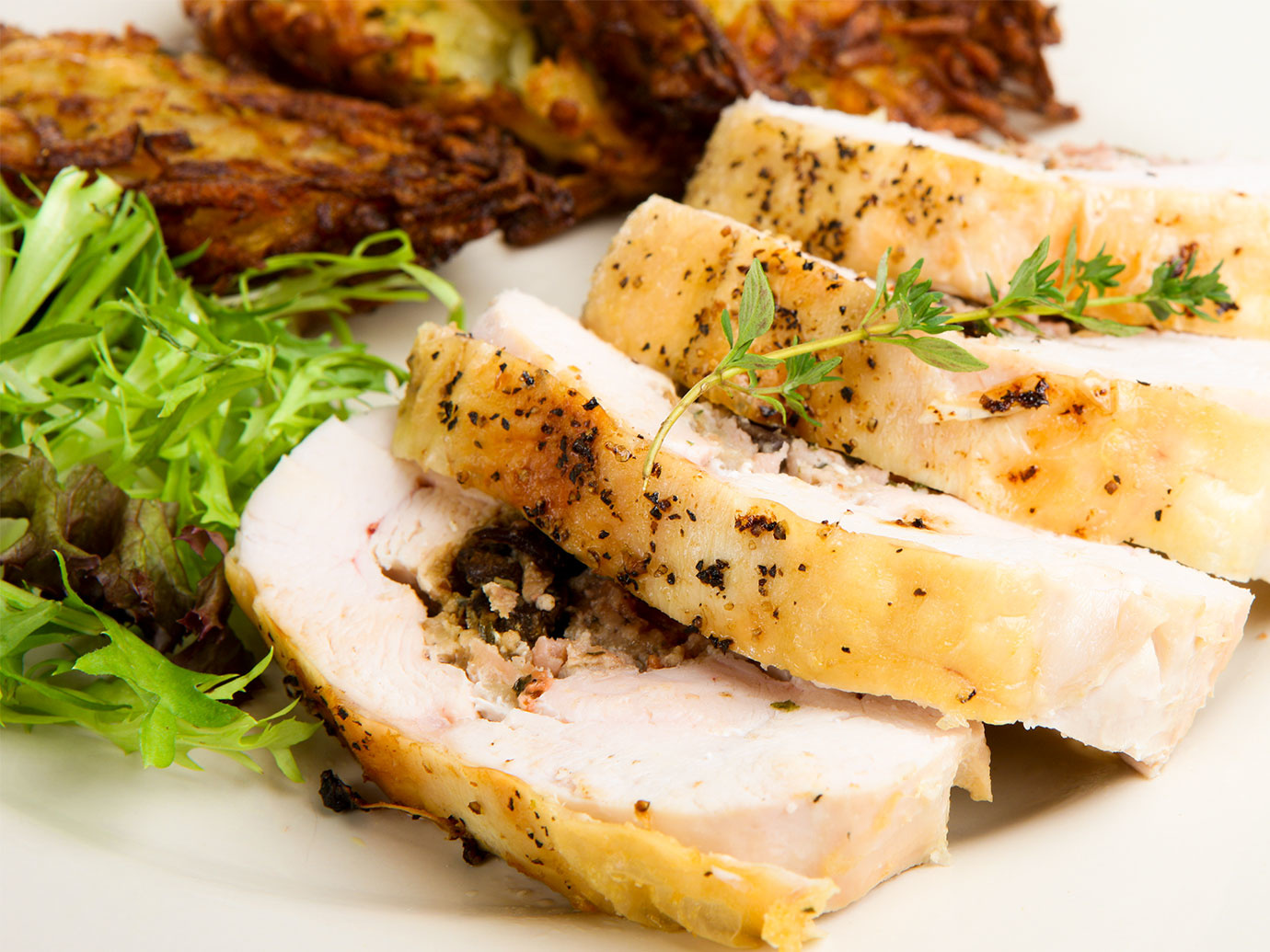 TIME
Prep time: 20 minutes
Cook time: 90 minutes
Servings: 6
INGREDIENTS
225 g (1/2 lb) ground Québec turkey, raw
15 ml (1 Tbsp.) BACON OLIVE OIL OR BASIL EV OLIVE OIL
2 French shallots (dried) very finely chopped
8 dried apricots
30 ml (2 Tbsp.) dried cranberries
60 ml (1/4 cup) salted or unsalted pistachios
1 egg
A few sage leaves
1 sprig of thyme
Salt and freshly ground pepper to taste
1 kg (about 2 lbs.) Québec roast turkey breast, with skin, without tenderloin or 2 breast halves of the same total weight
60 ml (1/4 cup) melted butter
45 ml (3 Tbsp.) maple syrup
30 ml (2 Tbsp.) brown sugar
30 ml (2 Tbsp.) SIGNATURE WHITE BALSAMIC VINEGAR or MAPLE BALSAMIC VINEGAR or ROASTED WALNUT BALSAMIC VINEGAR
DIRECTIONS
Stuffing
In a frying pan, heat the oil over medium heat and soften the shallots.
Add ground turkey and continue cooking until turkey is no longer pink.
In the meantime, finely chop the apricots, cranberries and pistachios.
Remove from heat, add remaining stuffing ingredients, season, mix well and allow to cool completely.
Roast
Preheat the oven to 325 °F (160 °C).
Open the roast flat or slightly overlap the two breast halves and season. Run butcher's twine under the roast or breasts, making sure they extend past both sides, then spread the cooled stuffing over the meat, fold over and tie.
Place the roast in an ovenproof dish.
In a bowl, combine butter, maple syrup, brown sugar, and balsamic vinegar.
Spread this mixture over the turkey roast and bake in the centre of the oven for about 1 hour and 15 minutes or until a meat thermometer inserted into the turkey meat, without touching the stuffing, reads 170 °F (77 °C).
During cooking, baste the roast with the meat juices and add a little water if necessary.
Cover with aluminum foil and let the roast rest for a few minutes in a serving dish.
Skim off the fat and strain the meat juice if necessary.
Slice the roast and serve with baked potato quarters and a stir-fry of beet leaves.
NOTES & TIPS
Let's talk turkey!
Never know what size turkey to buy to feed everyone? Plan on about 1/2 kg (about 1 lb) of whole raw turkey per person. Twelve of you at the table? Look for a nice 12 lb (6 kg) whole turkey. It doesn't get easier than that!