Login
Log in if you have an account
Register
Having an account with us will allow you to check out faster in the future, store multiple addresses, view and track your orders in your account, and more.
Create an account
SEVEN LAYER DIP WITH CHIMICHURRI
22 Feb 2021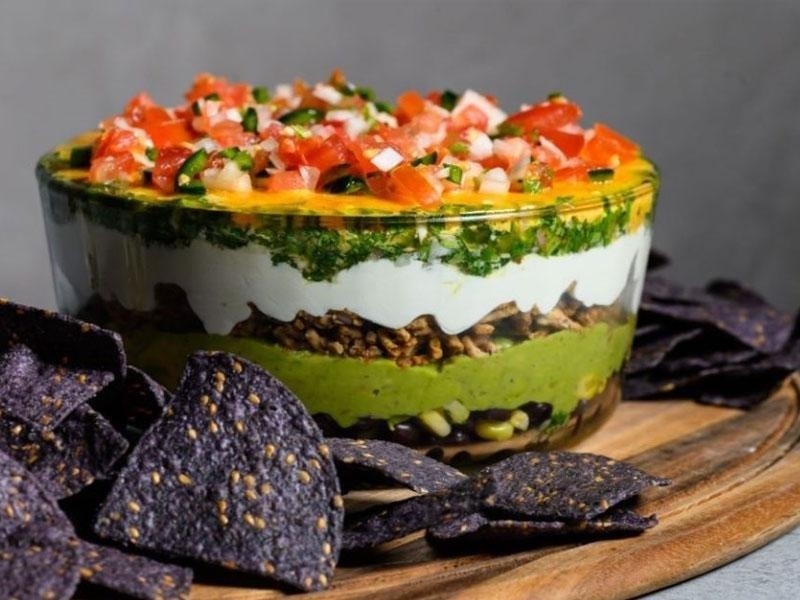 TIME
Prep time: 10 minutes
Cook time: 30 minutes
Servings: 10
NUTRITIONAL VALUE
Nutritional information per serving
Calories 790

Protein 28 g

Fat 57 g

Carbohydrates 45 g
INGREDIENTS
500 g ground Québec turkey or chicken
2-3 bags of corn chips for serving
2.5 ml (1/2 tsp) chili powder
5 ml (1 tsp) paprika
15 ml (1 Tbsp.) dried oregano
2,5 ml (1/2 tsp) cumin
5 ml (1 tsp) kosher salt
375 ml (1 1/2 cup) guacamole (use your favourite recipe)
500 ml (2 cups) full-fat sour cream
125 ml (1/2 cup) black beans
125 ml (/2 cup) sweet yellow corn
34 ml (3 Tbsp.) cilantro, chopped
For pico de gallo
1 large tomato, seeded, diced
1 large jalapeño, seeded, diced
125 ml (1/2 cup) white onion, diced
Juice of one lime
80 ml (1/3 cup) cilantro, chopped
For chimichurri
2 garlic cloves, diced
1 small shallot, diced
60 ml (1/4 cup) CHAMPAGNE WINE VINEGAR
30 ml (2 Tbsp.) fresh oregano, chopped
125 ml (1/2 cup) fresh parsley, chopped
80 ml (1/3 cup) fresh cilantro, chopped
80 ml (1/3 cup) INFUSED OLIVE OIL - OREGANO
1 tsp.Kosher salt
For cheese sauce
45 ml (3 Tbsp.) butter
30 ml (2 Tbsp.) all-purpose flour
250 ml (1 cup) whole milk
400 g old cheddar, grated
5 ml (1 tsp) chili flakes
DIRECTIONS
Place a large frying pan over medium to high heat with a splash of neutral oil. Add ground turkey to the pan, with chili powder, paprika, oregano, cumin and salt. Let fry for 3 minutes without touching to create some browning on the bottom. With a wooden spoon break up the ground turkey into small bits and mix in the herbs and spices. Cook for another 3-4 minutes or until all bits are cooked through. Take off heat and set aside.
Mix corn, black beans and cilantro with a pinch of salt in a small mixing bowl. Set aside.
To make pico de gallo, the fresh salsa layer, mix all ingredients in a small bowl. Set aside.
To prepare the chimichurri begin by mixing garlic, shallot and white wine vinegar in a small bowl, letting it sit for 10 minutes. Add the oregano, parsley and cilantro, salt, and mix thoroughly. Slowly whisk in the olive oil. Set aside.
For cheese sauce
In a small saucepan melt butter over low to medium heat. Once butter is melted, whisk in flour until well incorporated. Add milk and bring to a simmer, whisking until the mixture thickens a bit. Add cheese into the milk, one small handful at a time, whisking between each until all the cheese is melted and smooth. Add chili flakes and mix again.
Use a large deep-dish pie plate (10') or a 9x12 casserole dish to layer the dip. Begin with the corn and beans on the bottom, then the guacamole, followed by the chimichurri, then the cooled ground turkey, followed by the sour cream, cheese sauce and pico de gallo.
Spread the layers all the way to the edges of your dish so the layers don't leak down into each other.
Refrigerate for up to a day before serving. Serve cool with corn chips.
NOTES & TIPS
For a less liquid pico de gallo, you can add a few pinches of salt to the tomatoes before mixing them into the salsa, then drain the tomatoes in a colander over a bowl. A considerable amount of water should run off.
Leave a comment